Asiatic
Asiatic Syon Cyra SY06
SKU: SYON120170SY06
Introducing our Asiatic Syon range which will truly make your home feel classy and fabulous. A traditional style rug the Syon is a staple piece constructed from 100% polyester. This material is strong but super shiny and soft. Inspired by Chinese rugs from centuries ago the Syon will add a centrepiece floor covering at an affordable price. Oh, and don't forget if you change your mind, we will collect it for free
Features
Traditional Chinese rug

100% polyester

Machine woven in China

Free delivery and a free to use collection service if you change you mind
What is the difference in the various rug materials 
Rugs are generally made from one of four main materials - wool, poly, viscose, or natural fibre. Each has distinct advantages
- Wool is thicker and will bounce back faster. Wool rugs tend to hold their shape far longer than other materials and will always feel more substantial underfoot. With some careful attention wool rugs should last many years. The downside of wool is cleaning needs to be done properly and generally the whole rug needs cleaned with specialist products
- Polypropylene or Polyester is a man-made material which is very hard wearing. The real benefit is they can be aggressively cleaned with mild detergent and they can also be spot cleaned. They will also be cheaper than most other rugs and can be replaced every few years without breaking the bank
- Viscose is a man made fibre that looks and feels like silk. These rugs are very luxurious and silky to touch. They add sophistication and a real sense of style. The downside of viscose is they can be hard to clean. Stubborn stains will probably be difficult to remove. They do look so good that with careful attention you won't have a problem
- Natural Fibre rugs are generally hard underfoot and contain knotted rather than twisted yarns. They are very eco-friendly and work well in kitchen/dining areas. The plant based rugs like sisal do stain as the material is absorbent but with careful care the look and feel of natural rugs are really exquisite
There are four main sizes for standard rugs all in CM
80x150 / 120x170 / 160x230 / 200x290.
The 120/170 size is the approx length of a two seat sofa. They work well in front of central points in the room. They are too small to go under furniture.
The 160x230 size is about the approx size of a three seat sofa.
If you are placing the rug under a sofa, table or furniture is best to go for the biggest size you can and have around 6-12 inches of the rug beyond the furniture
All rugs will always look better in the large sizes. The pattern does not repeat it simply stretches. You will see more of the base colour and the general wow factor goes up as the rug size increases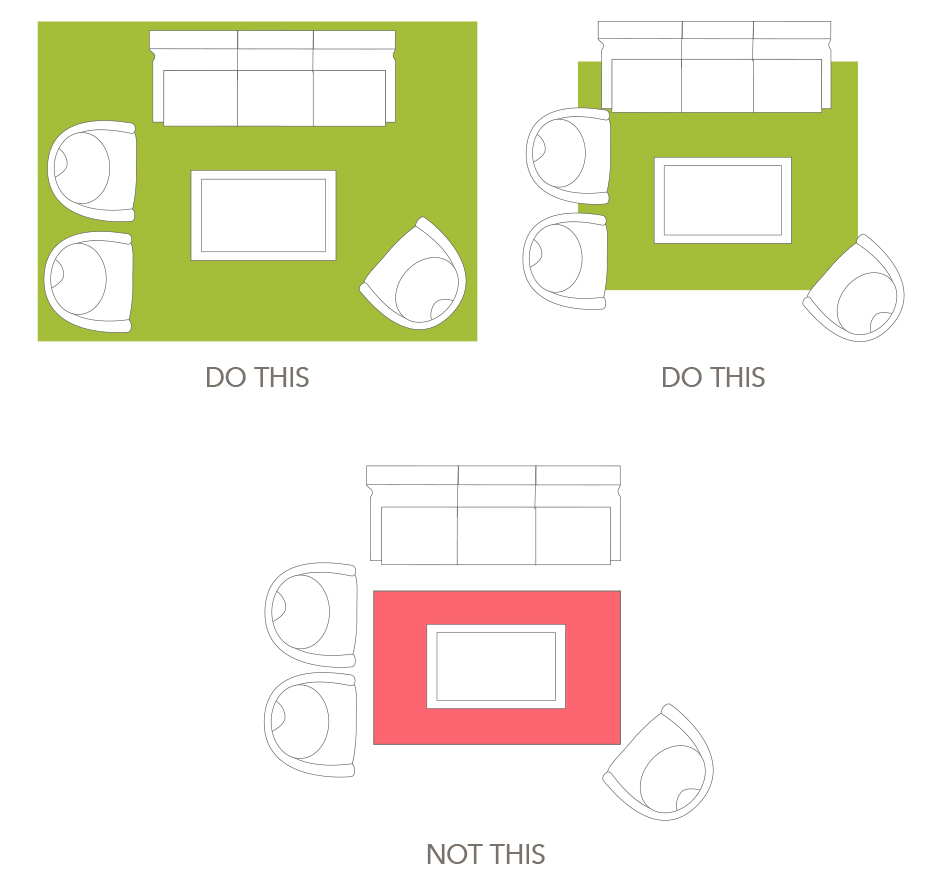 How long will delivery take
One of our main service principles is delivering products as fast as possible to our customers. We are a small family business, but we do have a retail showroom and distribution warehouse.
We have stock currently stored in our own warehouse and dedicated space within our suppliers premises. Delivery times can vary as products sometimes need to be moved between warehouses.
When we book our courier APC your product will arrive the next day. When we need to move product from our suppliers warehouse to our own this can take 5 working days to reach you due to multiple shipping points
We are very reliant on the UK courier networks to move products around quickly. During the busiest buying periods like Christmas, it can take 7 working days for orders to reach customers. We currently stock around 30% of our offering at our own dedicated warehouse which is all next day delivery.
What is the delivery charge
We do not charge any delivery fee for UK mainland orders. If you would like an order shipped internationally please get in touch with our sales team for a quote
What if I decide to return my order
We totally understand when orders arrive with customers they sometimes do not suit their needs or can appear slightly different than the product images. The images we use are provided from our suppliers and in terms of colour variation this is out of our control. Some colours will appear slightly different on various device screens. Many other colours like white, beige, grey, duck egg and taupe can be subjective. There are around 15 different shades of white for example.
Some of the abstract rugs will also appear different depending on the angle. These are known as one dimensional rugs. The Aurora range from Asiatic is a good example. This will look black and gold from one end, and grey and silver from the other. We try to upload as many product photos as possible.
If your order needs returned we have a simple to use system to register the return. This will generate an email to you with return instructions. It will be your responsibility to return the item in a resalable condition. We can make recommendations of courier services to use once the return is registered. This cost will vary depending on the size and weight of each product. The return fee will be from £8 for the smaller items and anything up to £50 for the large heavy two metre rugs. Please remember we as a small business have already paid that fee to send the rug to you at our own cost.
If you are unsure the product is going to be suitable we can sometimes send the smallest size to you. This allows you to see the colour before committing to the larger sizes. This is only possible if we have the small size in stock. Call us for more information.